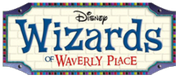 Wizards of Waverly Place is an American supernatural fantasy teen sitcom which ran from October 12, 2005 to March 15, 2009 on Disney Channel. The series was created by Todd J. Greenwald, and stars Selena Gomez, David Henrie and Jake T. Austin as three wizard siblings with magical abilities competing to win sole custody of the family powers. Further main cast includes Jennifer Stone, María Canals Barrera and David DeLuise.
The Mets are mentioned in First Kiss as Max creates a sandwich that is among the few being considered to become the official sandwich of the New York Mets. As this is happening, Alex's time manipulation affects what the officials from the New York Mets think of Max's sandwich. The spell to rewind time (which purportedly gives mortals deja vu) makes Max's unique sandwich ultimately bore the taste testers, who are unaware that they have in fact tasted Max's sandwich 17 times. This ruins the chances for it to become the New York Mets' official sandwich.
In the 6th episode of the first season You Can't Always Get What You Carpet both Alex and Justin fly over Shea Stadium at night during a game and Justin catches a homerun ball and later in the episode their dad finds out that they flew over the game as he was watching the game.
In Alex the Puppermaster Max prepares Jerry and Theresa for meeting Talia's parents, Meg and Rob. He gave them the wrong information by saying that they love going to the Mets and the movie theatre.
In Justin's Litte Sister both Justin and Jerry are revealed to like the New York Mets.
Ad blocker interference detected!
Wikia is a free-to-use site that makes money from advertising. We have a modified experience for viewers using ad blockers

Wikia is not accessible if you've made further modifications. Remove the custom ad blocker rule(s) and the page will load as expected.