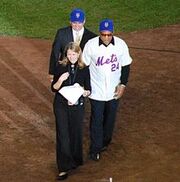 William Howard "Willie" Mays, Jr. (born May 6, 1931) is a former American baseball player who played the majority of his career with the New York and San Francisco Giants before finishing with the New York Mets. Nicknamed The Say Hey Kid, Mays was elected to the Baseball Hall of Fame in 1979, his first year of eligibility. Many consider him to be the greatest all-around player of all time.
He played for the Mets from 1972 to 1973. His last MLB game was in October, 1973. In May of 72' he was traded form the Giants to the Mets for Charlie Williams.
He remained with the Mets from 1974-1979 as the hitting coach.
Ad blocker interference detected!
Wikia is a free-to-use site that makes money from advertising. We have a modified experience for viewers using ad blockers

Wikia is not accessible if you've made further modifications. Remove the custom ad blocker rule(s) and the page will load as expected.