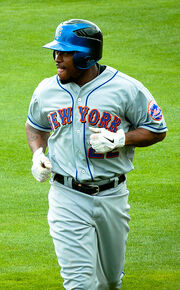 William Charles Harris (born June 22, 1978 in Cairo, Georgia) is a Major League Baseball infielder/outfielder for the Cincinnati Reds.
Age: 33 (born June 22,1978)
Position: Outfielder/Infielder
Bats: Left Throws: Right
Number: 22
Acquired: Free Agent Signing
Contract: Minor League
He got a invite to Spring Training after signing a minor league deal. On January 14 he signed a minor league deal with the Mets. It was official on January 17 and he also got an invite to Spring Training.
On June 29 Harris wife was pregnant and was in labor for their 3rd child. But on June 30 the baby was gone. During the time the mets called up Fernando Martinez to take his spot. He returned as F-Mart was sent down on July 3.
On August 7 Harris replaced Jose Reyes in the game where Daniel Murphy got hurt as he was Murphing Out and played the game at 2B. See more at Mets are Tomato Crushed.
On January 23 Harris signed with the Cincinnati Reds.
Ad blocker interference detected!
Wikia is a free-to-use site that makes money from advertising. We have a modified experience for viewers using ad blockers

Wikia is not accessible if you've made further modifications. Remove the custom ad blocker rule(s) and the page will load as expected.