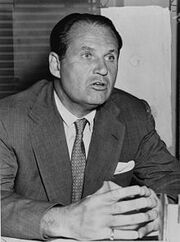 William Alfred "Bill" Shea (June 21, 1907 – October 2, 1991) was an American lawyer and a name partner of the prominent law firm of Shea & Gould. He is probably better known as the founder of the Continental League, which was instrumental in bringing National League baseball back to New York City with the New York Mets, and for being the namesake of the stadium where that team played for 45 years. The Mets long time home Shea Stadium was named in his honor. In Citi Field the Shea Bridge was named in his honor as well.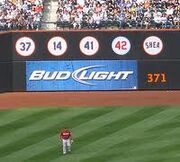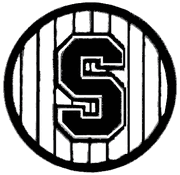 Shea brought back the National League to New York and with that the New York Mets were born. In 1992 the Mets honored Shea after his death with a memorial patch worn on the right sleeve of the uniforms. On April 8, 2008, the New York Mets retired the name "Shea" alongside other retired numbers in honor of William Shea and the closing of Shea Stadium.
Ad blocker interference detected!
Wikia is a free-to-use site that makes money from advertising. We have a modified experience for viewers using ad blockers

Wikia is not accessible if you've made further modifications. Remove the custom ad blocker rule(s) and the page will load as expected.