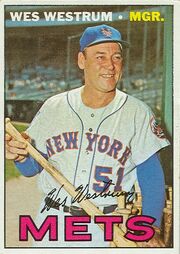 Wesley Noreen Westrum (November 28, 1922 – May 28, 2002) was an American professional baseball player, coach, manager, and scout.
New York Mets
Edit
Wes joined the club as a coach in 1964. He was moved to pitching coach in July of 65 after the release of former pitching coach Warren Spahn. His pitching coach spot later went to Harvey Haddix in 1966.
He served as manager for the New York Mets from 1965-1967 replacing Casey Stengel. Westrum quit the team with 11 games left in the season, he was replaced by coach Salty Parker. Then the later official manager for the Mets was Gil Hodges.
Stengel * Westrum * Parker * Hodges * Berra * McMillan * Frazier * Torre * Bamberger * Howard * Johnson * Harrelson * Cubbage * Torborg * Green * Valentine * Howe * Randolph * Manuel * Collins
Ad blocker interference detected!
Wikia is a free-to-use site that makes money from advertising. We have a modified experience for viewers using ad blockers

Wikia is not accessible if you've made further modifications. Remove the custom ad blocker rule(s) and the page will load as expected.