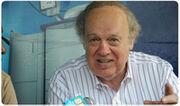 Warner Fusselle (born April 7, 1944 – June 10th, 2012) was the radio voice of the Brooklyn Cyclones. He worked for WKRB.
Fusselle broadcasted the Cyclones baseball since 2001 until 2011. On June 10,2012 he died of an apparent heart attack, just a week prior to the 2012 Cyclones season. For the 12' season he was replaced by David Rind, Vincent Coughlin and Chris Paizis as the radio broadcasters for the Cyclones.
Ad blocker interference detected!
Wikia is a free-to-use site that makes money from advertising. We have a modified experience for viewers using ad blockers

Wikia is not accessible if you've made further modifications. Remove the custom ad blocker rule(s) and the page will load as expected.