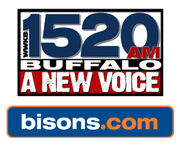 WWKB-AM (formerly WKBW) is an AM radio station in Buffalo, New York. The radio network began broadcasting Buffalo Bisons baseball since 2009. The hosts for the coverage are Ben Wagner and Duke McGuire. Duke is the color analyst and Ben also hosts pre-game and post-game on the radio for the Bisons.
External Links
Edit
Ad blocker interference detected!
Wikia is a free-to-use site that makes money from advertising. We have a modified experience for viewers using ad blockers

Wikia is not accessible if you've made further modifications. Remove the custom ad blocker rule(s) and the page will load as expected.