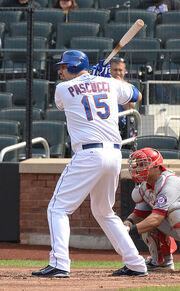 Valentino Martin Pascucci (born November 17, 1978 in Bellflower, California) is a Major League Baseball infielder who is a free agent.
2010-2011
Edit
Age: 33 (born November 17,1978)
Position: Infielder/Outfielder
Bats: Right Throws: Right
Number: 15
Acquired: Free Agent Signing
Contract: Minor League
He signed with the Mets on May 14,2010 for the second time to a minor league deal for the first time since 2008.
He finally joined the club as part of the September Callups on September 5,2011.
On September 24 he hit his first homerun since 04 when he was with the Expos against the Mets in the Game 1 of the double header sweep. Also for that game check Dickey throws 6 innings of no hits yet Mets Win.
On October 21 he was sent down to the minors along with Dale Thayer and Manuel Alvarez.
He spent the entire season in the minor leagues and became a free agent after the season.