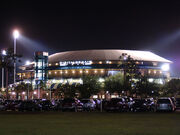 Tradition Field is the Mets current Spring Training home and their second since it replaced Al Lang Stadium. Both the New York Mets and their minor league team the St.Lucie Mets play there. It was called
Thomas J. White Stadium (1988-2004)
Tradition Field (2005-10, 2013-present)
Digital Domain Park (2010-2012)
On March 23, 2010, during a Mets spring training game against the Atlanta Braves, it was announced that effective immediately the stadium would be renamed Digital Domain Park, as a result of a multi-year partnership between the Mets and Digital Domain.
On February 7, 2013, the stadium was renamed Tradition Field as the Mets struck a deal with Tradition Florida.
Regular Season
Polo Grounds * Shea Stadium * Citi Field
Spring Training
Al Lang Stadium * Tradition Field
Ad blocker interference detected!
Wikia is a free-to-use site that makes money from advertising. We have a modified experience for viewers using ad blockers

Wikia is not accessible if you've made further modifications. Remove the custom ad blocker rule(s) and the page will load as expected.