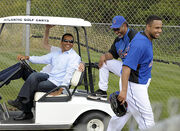 Antonio Bernazard Garcia (born August 24, 1956 in Caguas, Puerto Rico) is a former Major League Baseball second baseman and former executive in the New York Mets organization.
New York Mets
Edit
He joined the Mets in the December of 2004. He served as the Special Assistant to the General Manager from 2005-2006 with Al Goldis, Bill Livesey, Sandy Johnson, and Bryan Lambe.
Throughout his entire Mets career he had controversies putting his boss then GM Omar Minaya in heat. To see his controversies click here.
He was fired by Minaya on July 27, 2009. Since then he has not been in the MLB system.
Ad blocker interference detected!
Wikia is a free-to-use site that makes money from advertising. We have a modified experience for viewers using ad blockers

Wikia is not accessible if you've made further modifications. Remove the custom ad blocker rule(s) and the page will load as expected.