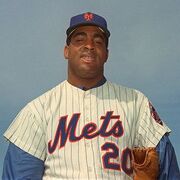 Tommie Lee Agee(August 9, 1942 — January 22, 2001) is a former Center Fielder who played for the Mets from 1968-1972. He was traded to the mets for Tommy Davis and Jack Fisher and 2 minor leaguers. He is a member of the 1969 Mets who won the 1969 World Series. In 1972 he was traded to the Houston Astros for Rich Chiles and Buddy Harris.
He passed away on January 22,2001.
Ad blocker interference detected!
Wikia is a free-to-use site that makes money from advertising. We have a modified experience for viewers using ad blockers

Wikia is not accessible if you've made further modifications. Remove the custom ad blocker rule(s) and the page will load as expected.