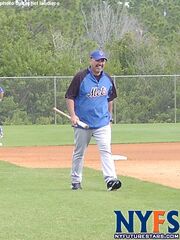 Thomas Andrew Nieto (born October 27, 1960) is a former Major League Baseball catcher. He served as the bench coach and catching instructor for the Mets.
When Willie Randolph was named manager of the New York Mets following the 2004 season, he named Nieto as his catching instructor on November 26, 2004. In 2007, Nieto switched from catching instructor to first base coach. On June 17, 2008, the New York Mets fired Nieto, manager Willie Randolph and pitching coach Rick Peterson.
Ad blocker interference detected!
Wikia is a free-to-use site that makes money from advertising. We have a modified experience for viewers using ad blockers

Wikia is not accessible if you've made further modifications. Remove the custom ad blocker rule(s) and the page will load as expected.