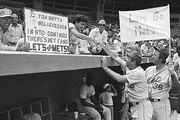 Thomas Roland Burgess (September 1, 1927 – November 24, 2008) was a Canadian baseball player, coach and manager. He is by far the only Canadian coach in the Mets history.
Tom was the Mets third base coach only in 1977. He replaced Eddie Yost and was later replaced by Dal Maxvill.
Ad blocker interference detected!
Wikia is a free-to-use site that makes money from advertising. We have a modified experience for viewers using ad blockers

Wikia is not accessible if you've made further modifications. Remove the custom ad blocker rule(s) and the page will load as expected.