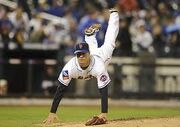 Tobi Neal Stoner (born December 3, 1984) is a Major League Baseball relief pitcher who is a free agent.
Stoner made his debut on September 8.
Tobi is one of the candidates to take over Oliver Perez's spot in the pitching rotation. He is facing these guys for the spot
It was Dickey who was chosen.
He was called back on April 18.
He didn't make an appearance in the majors in 2011 as he was in the minors for the entire year.
On March 26 he was released by the team along with 8 other minor leaguers who were Eric Niesen, Nick Carr, Roy Merritt, Chris Hilliard, Ronny Morla, Steve Winnick, Lucas Stewart, and Chase Greene.
Ad blocker interference detected!
Wikia is a free-to-use site that makes money from advertising. We have a modified experience for viewers using ad blockers

Wikia is not accessible if you've made further modifications. Remove the custom ad blocker rule(s) and the page will load as expected.