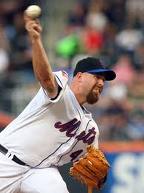 Timothy James Redding (born February 12, 1978) is an American baseball player and starting pitcher for Major League Baseball who is currently ia free-agent. He has also pitched for the Houston Astros, San Diego Padres, Washington Nationals and, New York Mets.
In January 2009, Redding signed a one-year, $2.25 million deal with the New York Mets. Going into spring training, Redding was a candidate to be the fifth starter. He struggled in the games that he pitched in and during the middle of spring training he was "shut down" due to right shoulder fatigue. It was speculated that his shoulder fatigue was caused by his own error. Redding had offseason foot surgery and he had been rushing back to make sure he had secured a spot in the Opening Day rotation. Tim made his first start of the 2009 season on May 18 against the Los Angeles Dodgers and allowed 2 earned runs over 6 innings. He was non-tendered by the Mets following the season.
Ad blocker interference detected!
Wikia is a free-to-use site that makes money from advertising. We have a modified experience for viewers using ad blockers

Wikia is not accessible if you've made further modifications. Remove the custom ad blocker rule(s) and the page will load as expected.