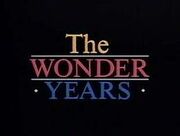 The Wonder Years is an American television comedy-drama created by Neal Marlens and Carol Black. It ran on ABC from 1988 through 1993. The pilot aired on January 31, 1988, following ABC's coverage of Super Bowl XXII.
The 1969 series was referenced in the television show where lead character Kevin Arnold (played by Fred Savage) recalled his days of youth during that summer.
In "Math Class Squared" the ninth episode of season three, Kevin overhears classmate Eddie McCormick (Chris Demetral) having a conversation with two others about cheating in his math class. After being graded on a curve because of the cheaters, Kevin decides he wants in and asks Eddie "How 'bout those Mets," the secret code that he's on board. As a result, his grades rise to near perfect and he is put in the honor math class.
Ad blocker interference detected!
Wikia is a free-to-use site that makes money from advertising. We have a modified experience for viewers using ad blockers

Wikia is not accessible if you've made further modifications. Remove the custom ad blocker rule(s) and the page will load as expected.