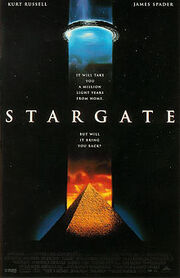 Stargate (French: Stargate, la porte des étoiles) is a 1994 French-American[3] adventure science fiction film[4] released through Metro-Goldwyn-Mayer (MGM) and Carolco Pictures. Created by Dean Devlin and Roland Emmerich, the film is the first release in the Stargate franchise. Directed by Roland Emmerich, the film stars Kurt Russell, James Spader, Jaye Davidson, Carlos Lauchu, Djimon Hounsou, Erick Avari, Alexis Cruz, Mili Avital, John Diehl, French Stewart, and Viveca Lindfors.
When Colonel Jack O'Neil (Kurt Russell) first appears, he is in his deceased son's room and a picture of his son wearing the 1980's style Mets uniform with a bat in his hand appears.
Ad blocker interference detected!
Wikia is a free-to-use site that makes money from advertising. We have a modified experience for viewers using ad blockers

Wikia is not accessible if you've made further modifications. Remove the custom ad blocker rule(s) and the page will load as expected.