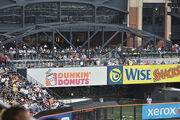 The Shea Bridge is a place where the fans can see the names of the William Shea family carved in the side of the Shea bridge. It is beyond the center field wall. The bridge is in honor of William Shea.
Ike Davis became the first player ever to hit a homerun there.
Ad blocker interference detected!
Wikia is a free-to-use site that makes money from advertising. We have a modified experience for viewers using ad blockers

Wikia is not accessible if you've made further modifications. Remove the custom ad blocker rule(s) and the page will load as expected.