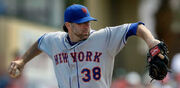 Shaun Michael Marcum (born December 14, 1981) is a Major League Baseball starting pitcher who is a free agent.
Age: 31 (born December 14,1981)
Position: Pitcher
Bats: Right Throws: Right
Number: 38
Acquired: Free Agent Signing
Contract: 1 year, $4 million
On January 31, Marcum signed a one year deal with the Mets worh $4 million. However he started the season on the DL. He came off the DL on April 27 and Josh Edgin was sent down. Marcum was placed on the DL on July 9 and Gonzalez Germen took his spot. Marcum fell to a 1-10 record on the season and would be out for the season with having surgery on his pitching shoulder.
Marcum was released by the Mets on July 23.
Ad blocker interference detected!
Wikia is a free-to-use site that makes money from advertising. We have a modified experience for viewers using ad blockers

Wikia is not accessible if you've made further modifications. Remove the custom ad blocker rule(s) and the page will load as expected.