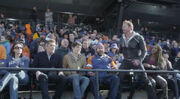 Sharknado 2: The Second One is a 2014 American disaster film and a sequel to the 2013 television film Sharknado. It was directed by Anthony C. Ferrante, with Tara Reid and Ian Ziering reprising their roles from the first film; also joining the cast are Vivica A. Fox, Kari Wuhrer, Kelly Osbourne, Judah Friedlander, and a host of celebrity cameo appearances. The film premiered on July 30, 2014, and was the highest-premiering film on the SyFy Channel.
Fin's sister, Ellen Brody, is sightseeing in New York with her family. Her husband, Martin, a childhood friend of Fin's, takes their son, Vaughn, to a Mets game at Citi Field along with Martin's and Fin's friends Skye (who is also Fin's ex-girlfriend) and Brian. Ellen takes their daughter, Mora, to the Statue of Liberty where she meets with her friends, Polly and Chrissie, who tell her about Fin's flight.
At the airport, Fin warns the crowd of the impending storm, but no one takes it seriously. After accompanying April to the hospital where she undergoes surgery, Fin receives a call from Ellen and tells her to get back from Liberty Island as soon as possible. He agrees to retrieve Martin and Vaugn from the ball game, hiring a cabbie, Ben, to take him there. At Citi Field, Fin first encounters Skye. She kisses him, but he explains that he and April are back together. Fin gets them all to leave with him just as the storm arrives at the park. The sharks kill people as Fin and his group use various improvised weapons and make their way to the subway.
Ad blocker interference detected!
Wikia is a free-to-use site that makes money from advertising. We have a modified experience for viewers using ad blockers

Wikia is not accessible if you've made further modifications. Remove the custom ad blocker rule(s) and the page will load as expected.