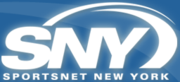 SportsNet New York

Launched

March 16, 2006

Owned by

New York Mets (65%) , Time Warner Cable (27%), Comcast (8%) (Sterling Entertainment Enterprises, LLC)

Picture format

1080i (HDTV), 480i (SDTV)

Slogan

TV Home of All Things New York Sports

Country

United States

Language

English

Broadcast area

New York metropolitan area, Nationwide (via satellite)

Sister channel(s)

WNBC, WNJU, NY1

President

Website
Availability

Satellite

DirecTV: 639 (HD/SD)

Cable

Time Warner Cable: 26/11, Verizon FiOS: 577 (HD), 77 (SD), Cablevision: 718 (HD), 60 (SD), Comcast: 843 (HD), 73 (SD) (Most Systems)

IPTV

AT&T U-verse: 1704 (HD), 704 (SD)
SportsNet New York (SNY) is a New York City-based regional sports network that is owned by Sterling Entertainment Enterprises, LLC; a company owned jointly by the New York Mets (owning a controlling 65% stake), Time Warner Cable (which owns 27%) and Comcast (which owns 8%). It is carried in the New York metropolitan area and all of New York state on cable television, and nationwide via satellite. The channel's primary programming consists of Mets and Big East Conference games, as well as supporting coverage of the Mets and the New York Jets.
SNY has street-level studios located in the Time-Life Building at the corner of Avenue of the Americas and West 51st Street, in the former home of the now-defunct CNN news program American Morning.
The network launched on March 16, 2006. To see the full list of shows click here. To see the networks very own staff check the announcers here.
SNY was created in an effort for the New York Mets to better leverage their broadcasting rights, which were previously held by Cablevision on its MSG and FSN New York networks. From 1998 to 2002, Cablevision had a monopoly on all local professional sports franchises in the New York City market, participating in many unfair business practices like moving games to its MSG Metro Channels with limited distribution. In 2002, the New York Yankees and New Jersey Nets broke the monopoly by starting the YES Network for their games, leaving the Mets in the Cablevision fold until their contract expired in 2005.
As of the 2011 season, the Mets received $68 million in rights from the SportsNet New York channel, which the team owns a two-thirds ownership stake in. In 2013, Bloomberg estimated that $1.2 billion of the Mets' $2.1 billion value came from SNY.
On February 12, 2014, it was reported that Comcast was to acquire TWC in an overall deal valued at $44 billion, pending regulatory approval. If approved, Comcast will become the minority partner of the network.
In 2010 the network returned Kiner's Korner in what they called Kiner's Korner Revisited. During the process the network has lost or taped over some of them. On the website there is only 8 episodes.
In 2012 the network changed it's graphics and the studios for Daily News Live, Mets Pre-Game Live and Mets Post-Game Live changed on April 9. For the changes see the pages in their production section. The commercials changed for Mets Pre/Post, Mets games.
Distribution
Edit
SNY is currently fully distributed. That said, the network had been expected to have problems being carried by Cablevision, as Mets games were moved off of Cablevision-owned networks (MSG Network and FSN New York, since renamed MSG Plus). This is similar to the situation when the newly formed YES Network took the Yankees off of Cablevision's channels. Cablevision sued on the grounds that the Mets might have violated their contract, under which Cablevision theoretically had a year left on the deal, as well as last-refusal rights. However, a judge ruled in favor of SportsNet New York, essentially holding the Mets had voided their deal with Cablevision entirely by paying a specified buyout fee, believed to exceed $50 million.
Comcast did not launch the network in the Hartford area until March 31, 2008, two years after its launch. Cox Communications recently added SNY on cable channel 62 in all areas in Connecticut just days after UConn signed a broadcast rights deal with SNY. It was announced on August 29, 2011 that SNY added a second feed for Connecticut branded SNY-CT.
External Links
Edit
SportsNet New York navbox
SportsNet New York
News & Debate
Daily News Live|Loud Mouths|Covino & Rich|SportsNite
SNY Originals
Beer Money|SNY Invitational|SNY Spotlight|Oh Yeah|Baseball Night in New York
Mets
New York Mets Season Games|Mets First Pitch|Mets Pre-Game Live|Mets Post-Game Live|Mets Fast Forward|Mets Insider|Kids Clubhouse|Mets Classics|UltiMet Moments|UltiMet Classics|Mets Hot Stove|Mets Talk Live|Simply Amazin'|Miracle in New York|Mets Yearbook|Mets Year in Review|Minor League Baseball
Playoff Coverage
Mets Playoffs Live|Mets First Pitch: Playoff Edition|Mets On Deck: Playoff Edition|Mets Playoffs Extra
Specials
Shea Goodbye: 45 Years of Amazin|Dem Bums, The Brooklyn Dodgers|Going Home|MLB's 20 Greatest Games|Ralph Kiner: 50 Amazin' Years|The Brooklyn Cyclones: Baseball on the Boardwalk|Reflections on 9/11: The NY Mets Remember|The 50 Greatest Mets|Mets All-Time Team|R.A. Dickey: A Season to Remember|Mets Hall of Fame: John Franco|Mets Hall of Fame: Mike Piazza|Battle of the Broadcasters|The Good Doctor|Beat the Booth
Online
Former
Softball 360|Street Games|Baseball in Africa: A Diamond in the Rough|Future Phenoms|Citi Field Special|2007 New York Mets Season Recap|Subway Series|Shea Goodbye: the Closing Ceremony|2008 UltiMET Moments: Amazin' Finishes|Citi Field: The Opening of a New Home|Yard Work|The WheelHouse|Mets Weekly|The Nooner|Kiner's Korner|The Baseball Show|Know Your Enemy|Recapr
Mets On-Air Talent
Gary Cohen|Ron Darling|Keith Hernandez|Nelson Figueroa|Bobby Valentine
SNY's News and Entertainment Team
Gary Apple|Joe Benigno|Kerith Burke|Chris Carlin|Meghan Culmo|Brian Custer|Jeane Coakley|Steve Covino & Rich Davis|Alexa Datt|Jim Duquette|Courtney Fallon|Eric Frede|Steve Gelbs|Kirk Gimenez|Frank Isola|Kris Jenkins|Roy S. Johnson|Joe Klecko|Sal Licata|Ray Lucas|Andy Martino|Eamon McAnaney|Don McPherson|Marc Malusis|Sean Mulcahy|Sweeny Murti|C.J. Papa|Larry Ridley|Jonas Schwartz|Doug Williams|Kara Wolters|Michelle Yu
Other
Alex Anthony|Scott Braun|Don Jamieson|Steve Raab|Mayleen Ramey
Former Mets On-Air Talent
Kevin Burkhardt|Lee Mazzilli|Harold Reynolds|Matt Yallof|Darryl Strawberry|Ralph Kiner|Bob Ojeda
Former SNY's News and Entertainment Team
Steve Berthiaume|Andrew Catalon|Kenny Choi|Chris Cotter|Scott Ferrall|John Franco|David Lee|Siafa Lewis|Meredith Marakovits|Roman Oben|Steve Overmyer|Adam Schein|Peter Schrager|Brandon Tierney|Lou Tilley
Former Other
Julie Alexandria|Alissa Ali|Ted Berg|Gabe Cohen|Amanda Cole|Julie Donaldson|Caitlin Fichtel|Neha Joy|Jon Litner|Duke McGuire|Kaitlin Monte|Alexi Panos|Jocelyn Pierce|Heather Prusak|Dan Schachner|Tiffany Simons|Brittany Umar|Ben Wagner|Amber Wilson|Jacob Resnick
Ad blocker interference detected!
Wikia is a free-to-use site that makes money from advertising. We have a modified experience for viewers using ad blockers

Wikia is not accessible if you've made further modifications. Remove the custom ad blocker rule(s) and the page will load as expected.