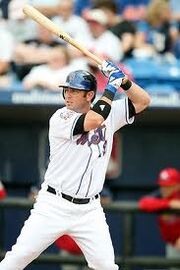 Ryan Matthew Church (born October 14, 1978, in Santa Barbara, California) is a Major League Baseball outfielder who is a free agent.
Church began his career with the Montreal Expos/Washington Nationals. He was then later traded to the Mets along side with Brian Schneider for Lastings Milledge on November 30. He played for the Mets from 2008-2009. On September 28 he made the final out in Shea Stadium history in a 4-2 loss against the Florida Marlins.
Later in the 2009 season Ryan was traded to the Braves for right fielder Jeff Francoeur on July 10,2009. He lasted just the 09 season for the Braves, but since he became a free-agent he then signed with the Pittsburgh Pirates and he began to play on Opening Day. Ryan missed the 3rd base bag in the California Series against the Los Angeles Dodgers. Also he came back on June 6 after Emil Brown was DFA'd.
Ad blocker interference detected!
Wikia is a free-to-use site that makes money from advertising. We have a modified experience for viewers using ad blockers

Wikia is not accessible if you've made further modifications. Remove the custom ad blocker rule(s) and the page will load as expected.