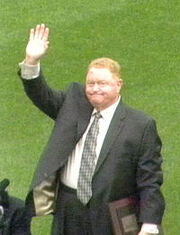 Daniel Joseph "Rusty" Staub (born April 1, 1944) is an American former Major League Baseball right fielder, designated hitter, and first baseman.
Staub played for the New York Mets from 1972–1975 then again 1981–1985. His last game came on October 6. He was traded in 72' for Mike Jorgensen, Tim Foli, Ken Singleton. Before 76' he was traded to the Detroit Tigers with Bill Laxton for Mickey Lolich and Billy Baldwin.
In 1986 he was inducted into the New York Mets Hall of Fame. He was a Player-coach in 1982 after signing as a free agent in December of 81'. Staub also was a TV broadcaster for the Mets from 1986-1995.
Ad blocker interference detected!
Wikia is a free-to-use site that makes money from advertising. We have a modified experience for viewers using ad blockers

Wikia is not accessible if you've made further modifications. Remove the custom ad blocker rule(s) and the page will load as expected.