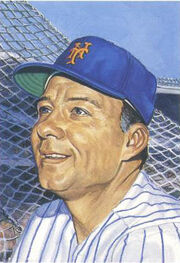 Albert Bluford "Rube" Walker (May 16, 1926 – December 12, 1992) was an American Major League Baseball catcher and longtime pitching coach.
Walker served as the pitching coach for the Mets from 1968-1981. He replaced Harvey Haddix. He was replaced by Bill Monbouquette.
Ad blocker interference detected!
Wikia is a free-to-use site that makes money from advertising. We have a modified experience for viewers using ad blockers

Wikia is not accessible if you've made further modifications. Remove the custom ad blocker rule(s) and the page will load as expected.