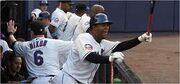 Robinson Cancel (born May 4, 1976 in Mayaguez, Puerto Rico) is a catcher in Major League Baseball who is currently with the Houston Astros.
He hit his first homerun of his career with the New York Mets on August 11,2008. In 2009 he spent most of the time in the minors. On October 9 he DFA'D by the mets.
Ad blocker interference detected!
Wikia is a free-to-use site that makes money from advertising. We have a modified experience for viewers using ad blockers

Wikia is not accessible if you've made further modifications. Remove the custom ad blocker rule(s) and the page will load as expected.