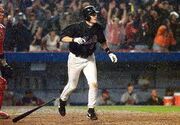 Robin Mark Ventura (pronounced /vɨnˈtɜrə/ vin-TURR-ə; born July 14, 1967 in Santa Maria, California) is a former professional baseball player, a third baseman who played for four major league teams, most notably for the Chicago White Sox.
Grand Slam Single
Edit
Ad blocker interference detected!
Wikia is a free-to-use site that makes money from advertising. We have a modified experience for viewers using ad blockers

Wikia is not accessible if you've made further modifications. Remove the custom ad blocker rule(s) and the page will load as expected.