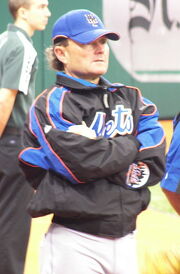 Erick Harding "Rick" Peterson (born October 30, 1954) is a former pitcher and pitching coach in Major League Baseball. He was a pitcher in the Pittsburgh Pirates organization, but is most notable as the pitching coach for the Oakland Athletics, New York Mets, and the Milwaukee Brewers. Peterson is known for his unique use of biomechanical research and psychological principles to help pitchers improve their pitching motions. His nicknames include "The Jacket" (because he always wears a jacket during games) and "The Professor." He's also known for placing his hand on the shoulder of the pitcher during mound visits.
New York Mets
Edit
He became the pitching coach for the Mets in 2004 until 2008. On February 2, 2007 he signed a contract that would make him coach until 2009. On June 17, 2008 he was fired along with Willie Randolph and Tom Nieto. He replaced Vern Ruhle. He was later replaced by Dan Warthen.
Ad blocker interference detected!
Wikia is a free-to-use site that makes money from advertising. We have a modified experience for viewers using ad blockers

Wikia is not accessible if you've made further modifications. Remove the custom ad blocker rule(s) and the page will load as expected.