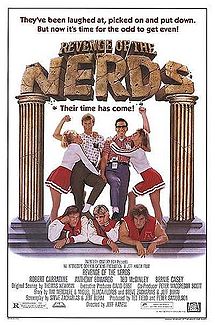 Revenge of the Nerds is a 1984 American comedy film about social life on a college campus. The film stars Robert Carradine andAnthony Edwards, with Curtis Armstrong, Ted McGinley, Julia Montgomery, Brian Tochi, Larry B. Scott, Michelle Meyrink, John Goodman, and Donald Gibb. The film was directed by Jeff Kanew.
When the jocks of the Alpha Betas fraternity raid the freshman dorm, a student kicked out of the dorm can be seen wearing a Mets cap.
Ad blocker interference detected!
Wikia is a free-to-use site that makes money from advertising. We have a modified experience for viewers using ad blockers

Wikia is not accessible if you've made further modifications. Remove the custom ad blocker rule(s) and the page will load as expected.