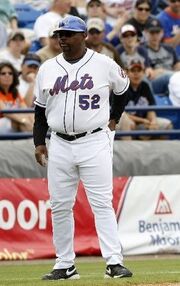 Anthony Razor Shines (born July 18, 1956 in Durham, North Carolina) is a retired baseball player who played first base for the Montreal Expos for four seasons, from 1983–1985 and 1987. He also served as a base coach for the New York Mets from 2009 to 2010. He replaced former third base coach Luis Aguayo.
He began as the third base coach until he was moved by the Mets to first base in 2010. He was replaced by Chip Hale at third base. He replaced former first base coach Luis Alicea.
He was replaced by Mookie Wilson at first base on December 13, 2010.
Ad blocker interference detected!
Wikia is a free-to-use site that makes money from advertising. We have a modified experience for viewers using ad blockers

Wikia is not accessible if you've made further modifications. Remove the custom ad blocker rule(s) and the page will load as expected.