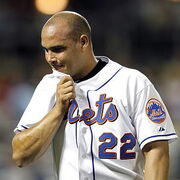 Raúl Valdés (born November 27, 1977) is a Major League Baseball pitcher for the St. Louis Cardinals.
On April 11, Valdes made his first major league debut. He got his first major league win on May 11 over the Washington Nationals in a 8-6 win.
He was one of the candidates to take over Oliver Perez's spot on the rotation. Here is the list of candidates for the spot
It was Dickey who was chosen.
On June 24, Barajas had a stiff back and was put on the bench. But he wasn't placed on the DL as the Mets called up Josh Thole and placed Raul Valdes to the Minors.
On July 6, the Mets placed Fernando Tatis on the 15-DAY-DL as they called up Valdes.
He again rejoined the team. For more see September Callups.
Valdes made his first major league start on October 2,2010 at Citi Field against the Washington Nationals and he didn't get the win so anyway Ryota Igarashi got the win anyway to make his first major league win for Ryota.
On November 23, he signed a minor league deal with the St. Louis Cardinals.
Ad blocker interference detected!
Wikia is a free-to-use site that makes money from advertising. We have a modified experience for viewers using ad blockers

Wikia is not accessible if you've made further modifications. Remove the custom ad blocker rule(s) and the page will load as expected.