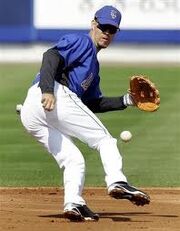 Ramón E. Martínez(born October 10, 1972 in Philadelphia, Pennsylvania) is a Major League Baseball utility infielder free-agent He is the cousin of Chicago Cubs catcher Geovany Soto.

He came to the Mets in 2008. Martinez was one of the players to be on the 2009 DL. After the 08 season he signed a minor league deal to rejoin the mets on February 13,2009.
Ad blocker interference detected!
Wikia is a free-to-use site that makes money from advertising. We have a modified experience for viewers using ad blockers

Wikia is not accessible if you've made further modifications. Remove the custom ad blocker rule(s) and the page will load as expected.