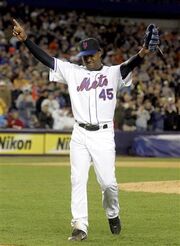 Pedro Jaime Martínez (born October 25, 1971 in Manoguayabo, Dominican Republic) is a free agent Major League Baseball pitcher. He is a three time Cy Young Award winner. At the time of his 200th win in April 2006, Martínez had the highest winning percentage of any 200-game winner in modern baseball history (he has since slipped .003 behind Whitey Ford). In 2007, Martínez became the 15th pitcher to reach 3,000 career strikeouts.
Officially listed at 5 ft 11 in (1.80 m) and 195 pounds (88 kg), Martínez is unusually small for a modern-day power pitcher, and he is believed to be somewhat smaller than his officially listed height and weight.
Pedro was a Met from 2005-2008. He has appeared on SNY Spotlight.
Then he joined the Philadelphia Phillies only for one year. He faced the Mets but the Phillies one on a triple play, check Pedro @ Mets. He was the winning pitcher as Francoeur Triples Out.
Ad blocker interference detected!
Wikia is a free-to-use site that makes money from advertising. We have a modified experience for viewers using ad blockers

Wikia is not accessible if you've made further modifications. Remove the custom ad blocker rule(s) and the page will load as expected.