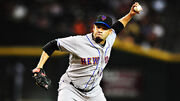 Pedro Juan Feliciano Molina (born August 25, 1976) is a relief pitcher who is currently with the New York Yankees. His nickname is Perpetual Pedro given by Gary Cohen. He is the older brother of the Jesus Feliciano.
2002-2010
Edit
He was traded from the Reds to the mets with Brady Clark for Shawn Estes in August of 02. This took place on August 15.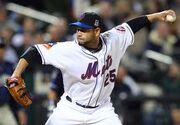 He has been with the mets from 2002 until 2010. He made his debut on September 4. In 07 he got his first ever save of his career. In 2010 he passed Tom Seaver with 459 games pitched and second to John Franco. His brother Jesus came with the mets in 2010 as both were teammates for the only time in both of their careers.