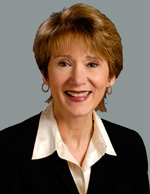 Paula Newton is the current Chief Operating Officer for Sterling Equities affiliate Sterling American Property in the Asset Management division in the Southwest Region.
Newton began her affiliation with Sterling in 1976 and now heads Sterling's Houston office, as well as overseeing the Funds' Texas portfolios. Her background includes co-ownership of a residential and commercial management company as well as serving as a regional vice president for a national apartment owner. Ms. Newton earned a Masters and a Bachelors Degree from Northeastern Illinois University and is a CPM and CAPS
External Links
Edit
Ad blocker interference detected!
Wikia is a free-to-use site that makes money from advertising. We have a modified experience for viewers using ad blockers

Wikia is not accessible if you've made further modifications. Remove the custom ad blocker rule(s) and the page will load as expected.