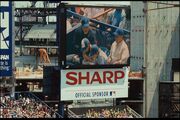 Old Dogs is a 2009 American ensemble comedy film directed by Wild Hogs's Walt Becker and starring John Travolta and Robin Williams with an ensemble supporting cast played by Kelly Preston, Matt Dillon, Justin Long, Seth Green, Rita Wilson, Dax Shepard, and Bernie Mac. It was released in theaters on November 25, 2009 and was released on DVD March 9, 2010.
Dan (Robin Williams) and Charlie (John Travolta) have on-field access at Shea, where they take pre-game batting practice. They and Dan's kids get player autographs and Mets caps, and then sit in the stands when, in a blink-and-you'll-miss-it moment, David Wright crushes the ball. Later on, Dan's son excitedly declares that they got to "hang out with the New York Mets."
Ad blocker interference detected!
Wikia is a free-to-use site that makes money from advertising. We have a modified experience for viewers using ad blockers

Wikia is not accessible if you've made further modifications. Remove the custom ad blocker rule(s) and the page will load as expected.