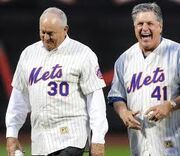 Lynn Nolan Ryan, Jr.(born January 31, 1947) is a former Major League Baseball pitcher and current president of the Texas Rangers.
Nolan Ryan began his career with the Mets on September 11, 1966. He was know as one of the top pitchers in the game. He had 7 no-hitters in his career and none of them were with the Mets even though he had alot of K's when he pitched in games with the Mets.
His career with the Mets were from 1966,1968-1971. Before he could stay another year with the Mets.
He was traded to the California Angels. He was traded December 10,1971 along with Don Rose,Francisco Estrada and Leroy Stanton, for shortstop Jim Fregosi.
Ad blocker interference detected!
Wikia is a free-to-use site that makes money from advertising. We have a modified experience for viewers using ad blockers

Wikia is not accessible if you've made further modifications. Remove the custom ad blocker rule(s) and the page will load as expected.