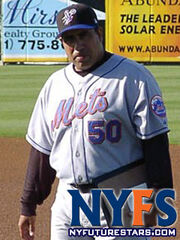 Nelson (Sanchez) Silverio (born August 2, 1967 in Santiago, Dominican Republic) is a former Major League Baseball coach and former minor league baseball player and manager.
Sliverio was the bullpen catcher for the New York Mets from 2003-2004.
In 2005, he was the hitting coach for the Gulf Coast Mets. He spent the 2006 season in St.Lucie , serving as the squads hitting coach. He has been promoted to Binghamton for 2007, once again serving as the hitting coach.
Sliverio left the organization after the 2007 season.
Ad blocker interference detected!
Wikia is a free-to-use site that makes money from advertising. We have a modified experience for viewers using ad blockers

Wikia is not accessible if you've made further modifications. Remove the custom ad blocker rule(s) and the page will load as expected.