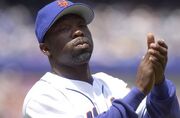 William Hayward "Mookie" Wilson
(born February 9, 1956) is a former Major League Baseball center fielder who played with the New York Mets (1980–89) and Toronto Blue Jays (1989–91). He was a switch hitter, known for his impressive speed and positive attitude. Fans would frequently chant
"Mooooo-kie"
in appreciation of him. He remains regarded with special affection by Jays and Mets fans. He was know for grounder against the
Boston Red Sox
in game 6 of the
1986 World Series
that got passed by Red Sox's first baseman
Bill Buckner
.
He coached the Mets from 1997 until 2002 at first base before re-joining the coaching staff nine years later.
On December 13, 2010, he was the new first base coach for the Mets as he replaced Razor Shines. On September 24, 2011, Wilson left the team to be there with his family as his sister died and Wally Backman became the coach at first base for the remainder of the season.
On October 5, 2011, the Mets announced that Wilson along with Ken Oberkfell, Chip Hale and Jon Debus will not return for the 2012 Season.
He was replaced by Tom Goodwin for the first base coach position on October 29.
Ad blocker interference detected!
Wikia is a free-to-use site that makes money from advertising. We have a modified experience for viewers using ad blockers

Wikia is not accessible if you've made further modifications. Remove the custom ad blocker rule(s) and the page will load as expected.