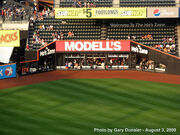 The Modell's Clubhouse seating area is a seating area below the Pepsi Porch in right field where the fans can sit and watch the game from there. Even some of the New York Mets players sit there.
In the 2011-2012 off season the Mo Zone nook was removed changing the old distance which was from 415 feet (126 m) from home plate to 390 feet (120 m). Now the Mo Zone has a net where the Mets bullpen is to protect pitchers from getting the hard hit impact from Home Runs.
Ad blocker interference detected!
Wikia is a free-to-use site that makes money from advertising. We have a modified experience for viewers using ad blockers

Wikia is not accessible if you've made further modifications. Remove the custom ad blocker rule(s) and the page will load as expected.