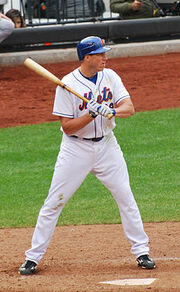 Michael Steven Hessman (born March 5, 1978, in Fountain Valley, California) is a third baseman who is a free-agent.
On December 8,2009 he signed a minor league deal with the mets.
On July 26,2010 , he was called up to replace Rod Barajas, who strained his right oblique.
He hit his first homerun as a Met on August 6,2010 of Philadelphia Phillies pitcher J.C. Romero in the Mets 7-5 loss to the phillies.
He had a homer taken away from him. For more see Dickey One-Hitter.
On November 10,2010, Hessman and Omir Santos refused their minor league assignment and then became free agents.
Ad blocker interference detected!
Wikia is a free-to-use site that makes money from advertising. We have a modified experience for viewers using ad blockers

Wikia is not accessible if you've made further modifications. Remove the custom ad blocker rule(s) and the page will load as expected.