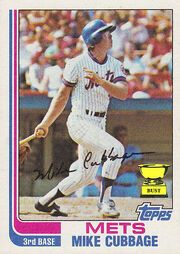 Michael Lee Cubbage (born July 21, 1950 in Charlottesville, VA) was an American baseball player who played Major League Baseball from 1974 until the close of the 1981 season.
New York Mets
Edit
Mike played for the New York Mets only in 1981. His last game was on October 3. He only managed in 1991. He was coach from 1990-1996. Mike was the First, Third and Hitting coach from that time. He replaced Bud Harrelson and later he was replaced by Jeff Torborg.
Stengel * Westrum * Parker * Hodges * Berra * McMillan * Frazier * Torre * Bamberger * Howard * Johnson * Harrelson * Cubbage * Torborg * Green * Valentine * Howe * Randolph * Manuel * Collins
Ad blocker interference detected!
Wikia is a free-to-use site that makes money from advertising. We have a modified experience for viewers using ad blockers

Wikia is not accessible if you've made further modifications. Remove the custom ad blocker rule(s) and the page will load as expected.