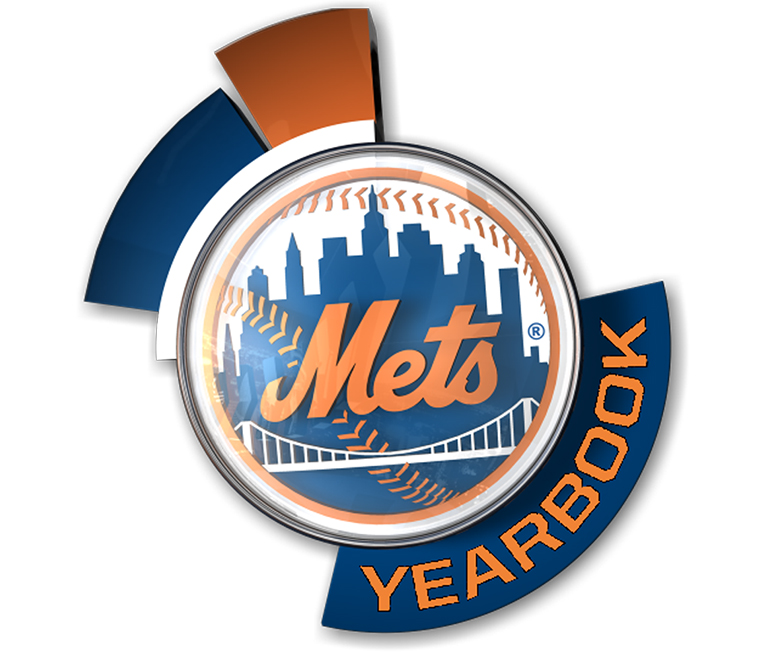 SNY Show

Name

Mets Yearbook

Host

Bob Murphy (not on SNY but when the Mets broadcasting began)

Seasons (SNY)

5

Original Run (SNY)

2010-present

Format

Mets Seasons Documentary 1962-1988

Running Time

30 min

Preceded by

None

Succeeded by

None

President

Website
Mets Yearbook is a show on SNY. Here is the description.
SNY will turn back the clock in this vintage series that features 27 half-hour Mets Yearbook specials from 1962-1988. These films were originally produced as marketing tools that were shown at local schools, churches, scout groups, etc. A lot of the earlier Mets Yearbooks have never aired on TV. Some cool highlights include the Mets playing at the polo Grounds, The Verrazano Bridge and Shea Stadium under construction. Also seen are interviews and 16mm film footage of Joan Payson, George Weiss (the Mets first club president and general manager), Lindsey Nelson and Bob Murphy - and highlights of Duke Snider Day at the Polo Grounds.
Other vintage scenes include spring training in St. Petersburg (featuring a young Ralph Kiner giving hitting tips to Ken Singleton), an early banner day at the Polo Grounds - and surreal footage of Casey Stengel taking a final walk out to the centerfield clubhouse at the Polo Grounds - eerily similar to Mike Piazza and Tom Seaver's final walk out to centerfield at the closing of Shea Stadium.
If there is a rain delay of Mets games on Sports Net then re-runs of the show airs.
External Links
Edit
News & Debate
Daily News Live|Loud Mouths|Covino & Rich|SportsNite
SNY Originals
Beer Money|SNY Invitational|SNY Spotlight|Oh Yeah|Baseball Night in New York
Mets
New York Mets Season Games|Mets First Pitch|Mets Pre-Game Live|Mets Post-Game Live|Mets Fast Forward|Mets Insider|Kids Clubhouse|Mets Classics|UltiMet Moments|UltiMet Classics|Mets Hot Stove|Mets Talk Live|Simply Amazin'|Miracle in New York|Mets Yearbook|Mets Year in Review|Minor League Baseball
Playoff Coverage
Mets Playoffs Live|Mets First Pitch: Playoff Edition|Mets On Deck: Playoff Edition|Mets Playoffs Extra
Specials
Shea Goodbye: 45 Years of Amazin|Dem Bums, The Brooklyn Dodgers|Going Home|MLB's 20 Greatest Games|Ralph Kiner: 50 Amazin' Years|The Brooklyn Cyclones: Baseball on the Boardwalk|Reflections on 9/11: The NY Mets Remember|The 50 Greatest Mets|Mets All-Time Team|R.A. Dickey: A Season to Remember|Mets Hall of Fame: John Franco|Mets Hall of Fame: Mike Piazza|Battle of the Broadcasters|The Good Doctor|Beat the Booth
Online
Former
Softball 360|Street Games|Baseball in Africa: A Diamond in the Rough|Future Phenoms|Citi Field Special|2007 New York Mets Season Recap|Subway Series|Shea Goodbye: the Closing Ceremony|2008 UltiMET Moments: Amazin' Finishes|Citi Field: The Opening of a New Home|Yard Work|The WheelHouse|Mets Weekly|The Nooner|Kiner's Korner|The Baseball Show|Know Your Enemy|Recapr
Mets On-Air Talent
Gary Cohen|Ron Darling|Keith Hernandez|Nelson Figueroa|Bobby Valentine
SNY's News and Entertainment Team
Gary Apple|Joe Benigno|Kerith Burke|Chris Carlin|Meghan Culmo|Brian Custer|Jeane Coakley|Steve Covino & Rich Davis|Alexa Datt|Jim Duquette|Courtney Fallon|Eric Frede|Steve Gelbs|Kirk Gimenez|Frank Isola|Kris Jenkins|Roy S. Johnson|Joe Klecko|Sal Licata|Ray Lucas|Andy Martino|Eamon McAnaney|Don McPherson|Marc Malusis|Sean Mulcahy|Sweeny Murti|C.J. Papa|Larry Ridley|Jonas Schwartz|Doug Williams|Kara Wolters|Michelle Yu
Other
Alex Anthony|Scott Braun|Don Jamieson|Steve Raab|Mayleen Ramey
Former Mets On-Air Talent
Kevin Burkhardt|Lee Mazzilli|Harold Reynolds|Matt Yallof|Darryl Strawberry|Ralph Kiner|Bob Ojeda
Former SNY's News and Entertainment Team
Steve Berthiaume|Andrew Catalon|Kenny Choi|Chris Cotter|Scott Ferrall|John Franco|David Lee|Siafa Lewis|Meredith Marakovits|Roman Oben|Steve Overmyer|Adam Schein|Peter Schrager|Brandon Tierney|Lou Tilley
Former Other
Julie Alexandria|Alissa Ali|Ted Berg|Gabe Cohen|Amanda Cole|Julie Donaldson|Caitlin Fichtel|Neha Joy|Jon Litner|Duke McGuire|Kaitlin Monte|Alexi Panos|Jocelyn Pierce|Heather Prusak|Dan Schachner|Tiffany Simons|Brittany Umar|Ben Wagner|Amber Wilson|Jacob Resnick
Ad blocker interference detected!
Wikia is a free-to-use site that makes money from advertising. We have a modified experience for viewers using ad blockers

Wikia is not accessible if you've made further modifications. Remove the custom ad blocker rule(s) and the page will load as expected.