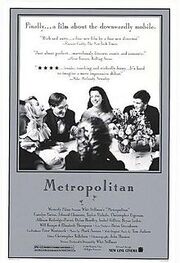 Metropolitan is the debut film by director and screenwriter Whit Stillman. It received an Oscar nomination for Best Original Screenplay. The film is often considered the first of a trilogy of Stillman films, followed by Barcelona (1994, but written before Metropolitan) and The Last Days of Disco (1998).
After the display of the time card, "Manhattan's West Side, Not so long ago", a man walking down the street is wearing a Mets cap.
Ad blocker interference detected!
Wikia is a free-to-use site that makes money from advertising. We have a modified experience for viewers using ad blockers

Wikia is not accessible if you've made further modifications. Remove the custom ad blocker rule(s) and the page will load as expected.