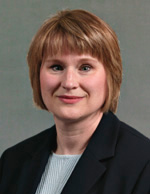 Mary Ann Mueller is the current Chief Executive Officer in the Assets Management for Sterling Equities affiliate Sterling Properties of Missouri and Sterling American Property. Mueller joined Sterling in 1976 and now serves as the Chief Executive Officer of Sterling Properties of Missouri. Ms. Mueller oversees a staff of over 100 employees in Sterling's Midwest office and directs the asset management activities for SAP's commercial and residential properties in the Midwestern and Western Unites States.
External Links
Edit
Ad blocker interference detected!
Wikia is a free-to-use site that makes money from advertising. We have a modified experience for viewers using ad blockers

Wikia is not accessible if you've made further modifications. Remove the custom ad blocker rule(s) and the page will load as expected.