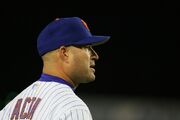 Manuel Elias Acta (born January 11, 1969, in San Pedro de Macorís, Dominican Republic) is a Major League Baseball manager for the Cleveland Indians.
Acta served as the Mets third base coach under former manager Willie Randolph from 2005-2006. He replaced Bobby Floyd. He was replaced by Sandy Alomar Sr..
Ad blocker interference detected!
Wikia is a free-to-use site that makes money from advertising. We have a modified experience for viewers using ad blockers

Wikia is not accessible if you've made further modifications. Remove the custom ad blocker rule(s) and the page will load as expected.