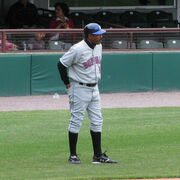 Luis Natera (born unknown) is a former coach in the New York Mets organization.
Luis was the first hitting coach for the Buffalo Bisons until June of 2009. He was replaced by Bill Masse. He was moved back down to the B-Mets to be the hitting coach again.
Natera was the manager of the Dominican Summer Mets from 1992-1997 then again in 2002. He spent 2003 & 2004 in the same capacity with the Kingsport Mets. In 2007 he was the hitting coach for the St.Lucie Mets after he had served as the hitting coach of the Hagerstown Suns for the 2005 and 2006 seasons. He was the hitting coach for the Binghamton Mets in 2008.
He originally was a player in the organization, spending five seasons in the minors.
Ad blocker interference detected!
Wikia is a free-to-use site that makes money from advertising. We have a modified experience for viewers using ad blockers

Wikia is not accessible if you've made further modifications. Remove the custom ad blocker rule(s) and the page will load as expected.