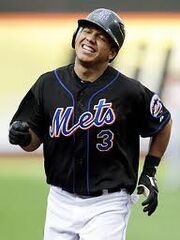 Luís Andres Hernández Mendoza (born June 26, 1984 in Quíbor, Lara, Venezuela) is a Major League Baseball infielder for the Texas Rangers.
2010-2011
Edit
zTLmDuhV3AQ}}
Age: 27 (born June 26, 1984)
Position: Shortstop
Bats: Switch Throws: Right
Number: 3
Acquired: Free Agent Signing
Contract: Minor League
On August 27,2010 his contract was picked up by the New York Mets from the Buffalo Bisons. On September 18 he fouled a ball off his foot then on the next pitch he hit a homerun.
On October 17, 2011 he became a free-agent.
Ad blocker interference detected!
Wikia is a free-to-use site that makes money from advertising. We have a modified experience for viewers using ad blockers

Wikia is not accessible if you've made further modifications. Remove the custom ad blocker rule(s) and the page will load as expected.