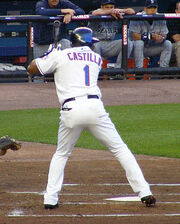 Luis Antonio Castillo (born September 12, 1975) is a second baseman who is a free agent.
Luis was traded from the Minnesota Twins for 2 minor league players on July 30. On November 18 he re-signed with the mets for a 4 year contract worth $25 million.
Castillo had so many problems such as injuries and being benched at few points during the season.
On June 12, during the end to a subway series game at Yankee Stadium he dropped a pop-up which lead the Yankees to win. Francisco Rodriguez was the pitcher for the mets in the error.
He had foot problems during the summer session of the season.
Part of his Foot Problems in both right and left foot on June 4, Castillo was put on the DL and was replaced by Ruben Tejada against the Florida Marlins. On August 7 he was made a bench player when Alex Cora was let go by the Mets.
On July 20, Castillo came back and the Mets sent down Ruben Tejada to the Triple-A.
On March 18, the Mets released castillo. On March 20 he signed with the Philadelphia Phillies to a minor league deal. Then on March 30 he was released from the Phillies.
Ad blocker interference detected!
Wikia is a free-to-use site that makes money from advertising. We have a modified experience for viewers using ad blockers

Wikia is not accessible if you've made further modifications. Remove the custom ad blocker rule(s) and the page will load as expected.