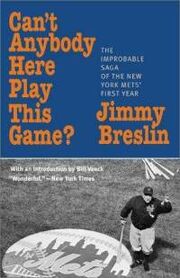 Lovable Losers was the nickname of the New York Mets from 1962-1969. They were called lovable because National League Baseball fans wanted the National League back in New York after the New York Giants left and became the San Francisco Giants and when the Brooklyn Dodgers became the Los Angeles Dodgers. The city wanted a National League team back in New York instead of the New York Yankees of the American League.
So then in 1962, William Shea brought back National League Baseball. The fans were happier than ever before. The Mets were born. From it's start in 1962 they played their first ever game against the St. Louis Cardinals. They lost their first game ever. Then the nickname Lovable Losers was born.
But it ended in '69 when the Mets won the 1969 World Series, their first ever in team history. Therefore they were never called the Lovable Losers again in history.
"the bunt" • "the catch" • Alex Anthony • Banner Day • Can't Anybody Here Play This Game? • Chico Escuela • Cowbell Man • Family Day • Frequency • Game 6 • Generation K • George Kalinsky • Grand Slam Single • Helmet Day • Jane Jarvis • Kiner's Korner • "Let's Go Mets Go" • Logos and uniforms of the New York Mets • Lovable Losers • Mathematically Alive • "Meet the Mets" • Mettle the Mule • Michael Sergio • Mr. Met • Mrs. Met • Sidd Finch • Sign Man • "The Boyfriend" • The Odd Couple • The Worst Team Money Could Buy: The Collapse of the New York Mets • Ya Gotta Believe • Mets in Popular Culture
Ad blocker interference detected!
Wikia is a free-to-use site that makes money from advertising. We have a modified experience for viewers using ad blockers

Wikia is not accessible if you've made further modifications. Remove the custom ad blocker rule(s) and the page will load as expected.