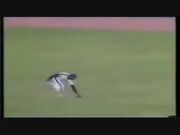 "Let's Go Mets Go!" (also entitled "Let's Go Mets!") was the rally song of the 1986 World Series champion New York Mets baseball team. The song was the brainchild of famed advertiser Jerry Della Femina and two of his executives, Bob Sherman and Jon Olken. The idea for the song was conceived in July 1986, when the Mets had a commanding lead in the National League East, and the pennant seemed inevitable. "Let's Go Mets Go" was composed and produced by Shelly Palmer, and lead vocals were performed by Tom Bernfeld.
A video was also produced, featuring Mets players, coaches and fans, along with a cameo appearance by Joe Piscopo.
"the bunt" • "the catch" • Alex Anthony • Banner Day • Can't Anybody Here Play This Game? • Chico Escuela • Cowbell Man • Family Day • Frequency • Game 6 • Generation K • George Kalinsky • Grand Slam Single • Helmet Day • Jane Jarvis • Kiner's Korner • "Let's Go Mets Go" • Logos and uniforms of the New York Mets • Lovable Losers • Mathematically Alive • "Meet the Mets" • Mettle the Mule • Michael Sergio • Mr. Met • Mrs. Met • Sidd Finch • Sign Man • "The Boyfriend" • The Odd Couple • The Worst Team Money Could Buy: The Collapse of the New York Mets • Ya Gotta Believe • Mets in Popular Culture
Ad blocker interference detected!
Wikia is a free-to-use site that makes money from advertising. We have a modified experience for viewers using ad blockers

Wikia is not accessible if you've made further modifications. Remove the custom ad blocker rule(s) and the page will load as expected.